Toby Brown | State Director, NSW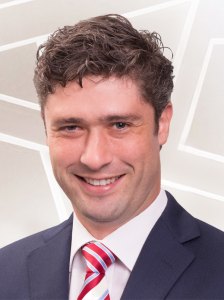 With over 17 years at WT Partnership (WT) and the last 13 years spent working in Asia, Toby has recently returned to Australia. Read on to discover why keeping an open mind is a key to success, and what will be missed most from life in Asia.
How have you adapted to life back in Sydney?
Absolutely loving it! The city has been transformed while I was away, and I'm super impressed with life back in Sydney. Whether it's a run around Manly and the harbour; exploring new and revamped areas such as Barangaroo, or enjoying summer at the cricket….
What will you miss most about Asia?
The variety in everyday life and opportunity for new experiences. I love exploring new places, and different cultures. On the work front, I had the opportunity to work on some amazing projects, with some of the largest International developers. I was fortunate to be WT Partnership's lead for Hongkong Land : a Jardine Mathieson Company, who own most of downtown Hong Kong and we were engaged to revitalize their portfolio of mixed use retail and office buildings. Another great opportunity was the hotel and gaming boom in Macau (and across all of Asia), where I was able to work with nearly all hotel operators and International brands. I'm looking forward to the opportunities here in Australia, but have fond memories of my time away.
What's the last great thing you binge watched and why?
Ballers…..I have a strange fascination with Dwayne "The Rock" Johnson.
Where is your favourite vacation spot?
Northern Italy.- perfect in both summer and winter.
What's the biggest change you've noticed in the industry on your return to Australia?
Construction prices are a lot higher than they were 13 years ago, and a lot more than most other developed Australasian countries! Opening up new supply chains across the world, and the digital revolution providing opportunities for more efficient designs through BIM, 3D printing and the like, should be helping to create savings and better value in construction. However, Sydney (and Australia) is similar to Hong Kong in that it has very high, and ever increasing costs for labour, and this is driving construction costs higher and higher often ahead of general inflation. A big change needed in our industry and one that seems in perpetual motion with not enough action, is the use of new technologies available to us to make building more efficient.
We as construction cost professionals, need to be constantly looking at ways to improve labour productivity requirements to reduce costs or free up budget for other value adding items. Whether it is via off site fabrication, more modularization, robotic works, the opportunities to increase productivity and compress construction periods are rapidly increasing – we must start taking advantage of these opportunities.
What's your proudest moment in business?
I was part of a phenomenal growth period in Asia. When I arrived in 2005, we had 250 people across 6 offices, and now have over 800 staff across 16 offices, certainly a proud achievement within the Executive team. For me, building a brand new WT business from scratch in Vietnam was a great experience, especially seeing the Vietnamese cost engineers gain opportunities to work on some great projects for some of the world's biggest developers, and broaden their horizons was a very fulfilling experience.
And in life?
I scored a 100 for the mighty Lindfield U/11 Border cricket team back in the 80's, that was a pretty good day…..but I have to say my wedding day. Our three kids are great moments in life that I've shared with my wife, but marrying such a great woman is the proudest (or luckiest) moment in my life.
What did you want to be when you grew up?
An astronaut.
Which of the WT values resonates most with you?
It is hard to settle on one, they are all an important ethos to engender. I'm a big believer in always looking to add value no matter the task, and always looking at an issue from all angles to see if there is a better way or another opportunity to explore.
I also firmly believe in empowerment. Providing an opportunity for everyone to grow together and confidently contribute to a team environment will always generate better results. This value is not just restricted to WT colleagues, but is a value that should be shared across all stakeholders in a construction project.
How have you (& WT) adapted over the last 10 years?
Keeping an open mind and willing to try something new is the only way to keep adapting. I've worked in many different countries and seen various ways to do the same thing. The truth is you can always learn something new if you're willing to give something a try and don't just assume you know best.
WT is testament to keeping an open mind and adapting. This attitude has allowed for continued expansion and a period of sustained success. Whether it's the push into heavy infrastructure 20 years ago, or seeking opportunities in facilities management more recently. WT has always adapted to present day challenges and explored new opportunities. If you don't believe me, it's worth a visit to our offices in Sydney to see how WT is adapting to the digital world with an agile active workplace to improve our collaboration and the value we can add to the services we deliver to our clients.
Who should play you in the movie version of your life?
Is this before or after my hair turned grey?……
What's the best thing that's going to happen in 2018?
I had a great end to 2017 with the move back to Sydney. In 2018, I'm excited to be building a portfolio of work for WT which will continue to build on my extensive data centre experience. Having been the lead on Hong Kong's largest data facility (100MWa), I'm looking for similar challenges in Australia.
Click edit button to change this text.