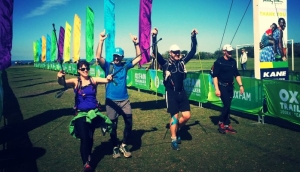 Statistically only 46% of starting teams finish the Oxfam Trailwalk.
I am very pleased to say that both WTP teams were in this 46%, albeit with varying degrees of damaged body parts.
I was asked, after completing the event, what was the worst moment and my answer then was "it's so difficult to pinpoint any one particular bad moment – there were so many." Now into the third day of recovery, as is often the case, the bad bits are slowly fading from memory and there is a degree of enjoyment and a huge amount of self-satisfaction, not only in completing the walk, or by having stayed together as a team but by raising over $10,000 for Oxfam. A huge THANK YOU to all of you who donated, an even bigger THANK YOU to our support crew whom we could not have managed without and to my team mates Antony, Andrew and Kathryn who helped me through and made it possible. This event was just one of the many team fundraising ideas we have planned for the next few months so stay tuned to find out what we get up to next for this worthy cause.
Some quick stats for you:
WT Partnership (team 1)
Fundraising target: $4,000
Total raised so far $10,094
Time on trail: 29 hours 8 minutes
Overall position: 153 t of 544 teams
Gender category (mixed): 61 of 284
Age (open): 18 of 466
Category (construction): 4 of 18
Chase the boss (team 2)
Fundraising target $1,500
Total raised so far $4,685
Time on trail: 32 hours 26 minutes
Overall position: 256 of 544
Gender category (male): 120 t of 167
Age (open): 207 of 466
Category (construction): 12 of 18
Nick Deeks