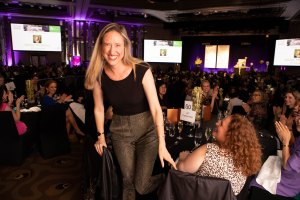 ASSOCIATE DIRECTOR NICOLE TRUMBULL RECOGNISED FOR ADVANCING THE INTERESTS OF WOMEN IN CONSTRUCTION
Associate Director Nicole Trumbull was the worthy recipient of the John Holland Crystal Vision Award at the 2019 NAWIC VIC Awards for Excellence.
The award recognises individuals and organisations for advancing the interests of women in the construction industry by actively promoting and encouraging the participation and career progression of women in the field.
Nicole joined WT 16 years ago as a cadet and knows first-hand the challenges of carving out a successful career in construction.  At 20 she often found herself the only woman in the room at construction project team meetings.  With a lack of strong female role models to look up to, she became determined to create a different experience for women entering the Quantity Surveying space.
She has broken down barriers by successfully advocating for paid parental leave and flexible work practices at WT and has been instrumental in the increased number of female cadets and graduates through challenging unconscious bias and advocating for female candidates.
As a sponsor for the PCA's 500 Women in Construction program Nicole has helped to advance the careers of the up and coming female talent by championing their leadership potential and helping to build their profiles. She also lends her voice externally as a guest lecturer at universities to promote women in construction.
Congratulations Nicole! We couldn't be prouder.