Project Description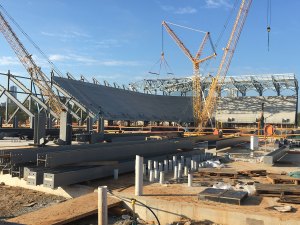 Client & Contractor:
Infrastructure New South Wales & Lend Lease Group
The new Western Sydney Stadium is the center piece to New South Wales Government's $1.6 billion Stadia Strategy. This strategy endeavors to improve sporting infrastructure throughout Sydney.
The new 80,000 square meter Western Sydney Stadium will replace the outdated and recently demolished Parramatta Stadium. Creating 1,200 jobs in the construction period and 600-900 during operations this is one of New South Wales largest projects. The stadium has been designed to with the people of Western Sydney in mind and will accommodate the nation's largest attractions. The stadium will cater for some of the largest international sporting events and has been designed to regularly host the Western Sydney Wanderers and National Rugby League.
Demolition began in late 2017 and the Project is planned to open in 2019. One of the key features of this Project is that it will have an increased seating capacity of 10,000 increasing the new total to 30,000 covered seats for athletic spectators and the capacity to hold 40,000 patrons for entertainment & concerts related events. Also, the new stadium will provide high-quality food and beverage facilities, and contain five levels of function spaces that will include advanced, yet user friendly technology.