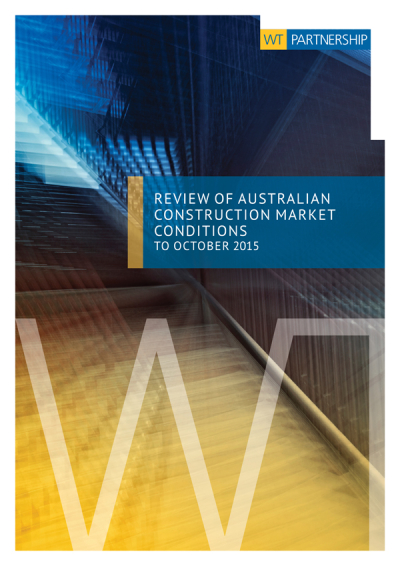 WTP's Review of Australian Construction Market Conditions to October 2015 is now available.
Construction activity across the country remains strong and sentiment amongst contractors, sub-contractors and the market generally is positive.
Our major state offices continue to report buoyant conditions in commercial, residential and infrastructure sectors driven by Asian and interstate investment and State Government funding initiatives.
Subcontractor capacity currently absorbed in residential construction is impacting on other sectors. Recent market feedback from contractors working in the retail sector for example indicates difficulty in sourcing adequate subcontractor coverage. The trend of subcontractors, and increasingly main contractors, to be more selective in tendering continues and some of our offices are experiencing increased difficulty in sourcing sufficient and appropriate tender interest.
In addition to supply constraints, the weakened Australian Dollar (AUD) is placing further escalation pressure and, with talk of a potential rate hike in the US and no sign of a rate hike in Australia, escalation pressure stemming from the weak AUD is only expected to increase. Contractors are cognisant of this risk with tender submissions increasingly including currency exchange rate qualifications.
We expect escalation to trend in the order of 2.6% to 3.0% for the balance of 2015, rising to 3.1% per annum in 2016 and then trending at levels of 3.8% to 4.0% over 2017 and 2018.
To review our state-by-state commentary on trends and activity in the construction and infrastructure sectors plus tender escalation forecasts to 2018,  download the report now.