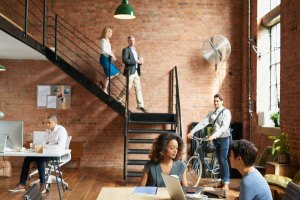 BY SAM ALEXANDER
Good design is a vital component of any workplace.
Given that we spend so much of our waking lives at work, it makes sense that companies are beginning to place a greater focus on how good design impacts employee satisfaction. Whilst it is often overlooked due to a primary focus on company deliverables, employee happiness is what ultimately drives company success.
It can be challenging to fit every good design idea into a business case budget. Sure, it may seem interesting and fun to have ping-pong tables and trendy furniture, but what cost do these additions come at, literally and figuratively? More importantly, what tangible value do they add to the workplace, and is it a smart long-term investment?
Value management can be a brutal business but approaching it in a considered way produces effective and long-lasting results.  By focusing on what components add true value to a workplace, there is greater consideration of the design elements and the use of the clients' "valuable" budget.
What is good design?
Ideally, good design should be all of the following: functional, aesthetically pleasing, and environmentally sustainable. There is beauty in simplicity – all too often, various elements can be over complicated. Simplifying a design can create more value, as it often becomes more aesthetically pleasing and cheaper to create. Sometimes it is about big picture thinking, rather than getting lost in the infinite detail.
Let's look at an example. A client's design brief included focus rooms in the back of house space with an 'element of fun' and some out-of-the-box thinking. Subsequently, the interior designer proposed a concept for the focus rooms based on the green and yellow vintage tram stops you can still see around inner-city Melbourne. Whilst they looked impressive and added an element of interest, the design didn't provide enough value to the project.  Consequently, the focus room design was simplified, and the budget was spent on other value-adding design elements such as greater acoustics (fewer distractions), themed feature graphics (inspiring new ideas), and additional fresh air.
This last point, providing additional fresh air, is one design concept which is often overlooked due to the associated costs.  But the fresher the air is within a workspace, the more alert employees will feel, which consequently improves cognitive function. The end result is the potential for happier and more productive employees, which can lead to an increase in revenue for companies who prioritise this design element.
Let's look at another example – a different project included plans for a feature ceiling, comprised of mood lighting that would change colour throughout the day, illuminating a series of linear slats. As impressive as the concept was, the design team agreed the budget would be better spent on design elements encouraging movement and connectivity between floors. In the same project, the interior designer proposed 3.6-metre wide glazed swing doors between the front and back of house areas. Despite the clean look of the doors, they would have been heavy to operate and very expensive due to their custom nature. The design team was passionate about the doors but were happy to simplify the design and allocate the budget to items that would provide greater value to the project.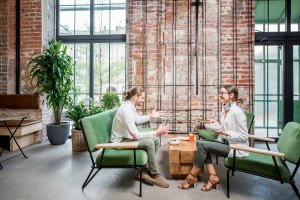 Smart design investments
As Quantity Surveyors, we are often called upon to "slash" a design to meet the budget.  What we must do is collectively consider every element of a design and why it's there. What value does it provide? Focusing on and celebrating 'hero' pieces is a good way to look at it – the whole space doesn't have to be a 'hero' space. These statement pieces can elevate the function, look and feel of an office, but they need to be there for a reason.
Smart investments in design could include integrating wellness facilities, which comprise consulting rooms (for doctors, physiotherapy, psychologists, etc) and multi-purpose venues for yoga and Pilates. Service providers could occupy the space at a discount and pass on that saving back to the tenant through reduced-cost services. This design model promotes personal wellbeing and productivity in the workplace and removes a huge amount of "junk" time across the workforce, which could lead to greater opportunities for productivity and reduced absenteeism.
'Neural pods' are another example of smart investment in workplace design, a trend which has been taken up by several financial companies. These pods are essentially quiet spaces with a comfortable chair and neural headgear.  The user puts on one of 3-4 options of headgear, each stimulating or calming the brain in different ways – through sound, light or even warming and massaging your frontal lobe. This design element could be viewed as an excessive luxury; however, the benefits are too interesting to ignore – I'm told five minutes in the pod is the equivalent of one hour of meditation. The possibility of bringing your teams' brainwaves up or down to an optimal level where they are calm, focused and productive could be an invaluable addition to the workplace.
Adopting a value-over-cost mindset engages the design team and encourages them to assess priorities actively, ensuring you're getting the most bang for your buck. A more considered design leads to greater employee engagement, resulting in a happier and more productive workforce – now that's value.